The Folding Society
Just the Tikit

The Bike Friday Tikit - a short report
First published 27 July 2007
---
Contents
---

1. Introduction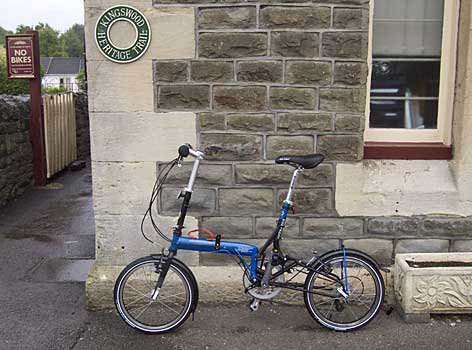 Bike Friday is a specialist manufacturer of folders which is based in Oregon, USA. They have been producing folders for over 10 years, during which they have built up a good reputation and an enthusiastic owner base. One of their slogans is that their products are "as good as your best bike", which correcly implies that the emphasis in the design was on good performance when riding, rather than ultimate portability, and also that buyers were often already enthusiastic cyclists with high-performance conventional bikes.

Although the first fold of Bike Fridays was not particularly compact or simple, an unusual feature has been that with some more work they could be fitted into an optional large hard suitcase, which is supplied with a trailer allowing it to be towed behind the bike - particularly useful if travelling by air. This feature again reflects the company's home market, where folders are probably carried in the (large) boot of a car, or on a plane, quite often, and not very often on a train, unlike the European market.

As well as bikes, Bike Friday produce folding tandems which have proved very popular, and, until recently, a folding recumbent bicycle. All the machines, including the tandems, fold and can be put into cases (2 cases for the tandems).

Most Bike Fridays in the past have been custom made for individual owners, sized to match, although the range has usually also included a slightly more basic, cheaper, standard model. As befits a custom made bike, prices in the UK have for the most part been over £1000 on the road, rising to over £2000 for some of the higher specification models. Considering the specifications, though, these prices are not unreasonable, and in the home market, where there are not the shipping costs and taxes, prices are more competitive.

Most Bike Fridays in the past have used 20 inch wheels - mostly the common 406 version, but the larger diameter 451 version in the case of the more sporting modles (with IRC Roadlite tyres the 451 is the most free-running machine I have tested, and the larger diameter allows higher overall gearing, more suited to the sports models). The original version of the Satrday recumbent used 16 inch 349 wheels, but its later replacement used 20 inch wheels again - apparently this has been discontinued as a result of the need to put more effort into developing the Tikit.

Bike Friday's model range is enormous, even before taking into account the many variants of each main model. The main models remain fairly static (there are additions every so often), but detail specifications, particularly component options, change very frequently.

Until 2007 all the models have been designed with performance on the road as the chief objective, rather than achieving the ultimate compact, fast, easy fold that is important to commuters using public transport. The Tikit is Bike Friday's first really compact folder, using as it does the 16 inch (349) wheel, and a folding mechanism with no manually-operated catches for folding - tap the back of the saddle, fold the seat post forward, and cables which run through the frame automatically release the latch holding the stem in position. Given the specification, the enthusiastic following that Bike Friday has gained for its previous bikes, and the general high-level of interest in compact folders, this is one of the most interesting new products to appear in the last few years. Although the Tikit was announced a few months ago, it took a while to get into production, and the first bikes only reached UK distributor Avon Valley Cyclery (AVC) in mid to late July 2007. We have been in touch with AVC at regular intervals since the Tikit was announced, so as soon as they told us the bikes had arrived, we went down to Bath to look at them and test one.

For most of our test reports we have the bikes for at least a couple of weeks (those we actually own, of course, we have for much longer). We try to use test bikes under a variety of different conditions, from short, train-assisted commutes to shopping, from gentle, sociable group rides to longer, faster day rides. We fold and unfold for transport by train and sometimes car, and we look into carrying luggage - mostly commuting requirements, day rides and perhaps shopping or touring requirements. For this test we had the bike for 4-5 hours at Bath, so the test is not as comprehensive, but we still think that we have been able to assess the Tikit reasonably well.

The Tikit is a very interesting new compact folder, so we are releasing this test report as soon as possible, which means that there are still some details missing, and there are lots of typos - we hope to address these shortcomings very soon. I must also apologise for the quality of the photographs - I was working away from base and therefore did not have a tripod with me, I was using a compact camera, I had limited time, it was raining throughout the test, and the light was poor.
2. Frame, major fittings and components
The frame and forks of the Tikit are steel, like other Bike Fridays. As far as we know, Bike Friday makes all its own frames - no far eastern imports - and steel is easier to handle than aluminium for small-scale in-house manufacture. However, there are many who feel that a steel frame is better than the more fashionable aluminium (which for volume manufacture may have advantages). Though the specific gravity of aluminium is lower than steel, which might suggest a lighter frame, the lower strength of aluminium means that more of it has to be used to achieve the same strength as steel, so that any reduction is weight compared with a decent steel frame is very small, and anyway the weight of the frame itself is not the largest part of the total bicycle weight. Although steel rusts if not properly protected (paint/powder coat/plating etc), its aging and fatigue properties are in many respects preferable to those of most aluminium (alloy). A good steel frame also tends to give a better ride (especially steel forks, the resilience of which helps to reduce some types of road surface vibrations). Finally, if you go in for expedition tours, a steel frame can be repaired using quite basic equipment which might be found in an emergency in relatively remote locations, whereas an aluminium frame would be much more difficult to get repaired. I must admit to preferring steel frames myself, though several of my bikes have aluminium frames.
Frame construction seems of a good standard. All the Tikits I have seen (4) were finished in a bright blue - quite an attractive colour. The frame comes in 3 sizes - large, medium and small - which differ in length (wheelbase) and stem and seat tube height. There is vertical adjustment in both the stem and seat height. The bars mount to the steerer tube via a standard stem (Ahead set type), so alternative stems could be used to adjust reach, in addition to sliding the saddle backwards and forwards. A standard micro-adjust seatpost is used. When I visited AVC, they had been expecting their first shipment to consist of a medium and a large frame, but in fact they had received 3 large frames and one small frame. The large frame would have been too big for me (I could barely have got on the saddle at its lowest position, so I tested the small framed machine. I found that this was quite a comfortable fit for me, with some height adjustment available both in the stem and saddle. I needed the saddle as far back as it would go, and I might have benefitted from a very slightly longer stem - I am 1.69m (5ft 6.5in), and rather short in the leg. The large-framed bikes felt a bit heavier than I expected, while the small frame felt, as you would expect, somewhat lighter. At this point I do not have actual figures for weights - I will add these when I have them.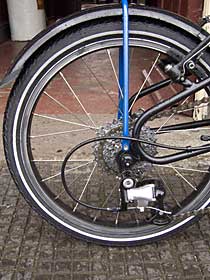 The frame has bottle bosses mounted behind the seat tube. A carrying handle mounts to bosses on the top of the main tube, but these are at a wider spacing, so a second bottle cage (or pump) could not readily be mounted here instead of the handle. Rather nice mudguards come as standard on the Tikit - the front one only has single mounting point, but has a stiffened 'spine' rivetted inside it, so does not vibrate when riding. The stays of the rear mudguard are very sturdy, and a small stub is provided on the top surface to protect the mudguard if the bike is standing on it when folded.The usual reflectors etc are fitted.
The saddle was a shade wide and soft for me, though many people would probably prefer this to my own choice. Folding pedals are fitted on both sides of the bike, and seem an adequate basic type. Handlebar length seemed quite appropriate - not ultra-narrow, but not inconveniently wide either. I found the handlebar grips, a foam type, too soft for my liking, but that's a very minor point and easily replaced.
It's worth mentioning that the frame has an exceptionally low stepover height, which is particularly helpful for those who have problems getting on and off a bike.
The total weight of the Tikit, with saddle, pedals and mudgaurds is 24.3lbs (11Kg) for the small frame, or 25.9lbs (11.75Kg) for the large frame - not ultra light, but certainly not heavy either.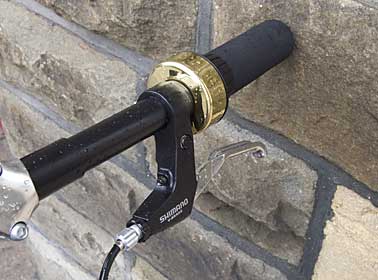 A particularly neat touch is the bell on the left-hand side of the handlebar - it is operated by what at first glance might be taken for a twist grip. It produces a very melodious, but rather quiet, sound - not just a 'ping'. This form of mounting is also useful in a practical sense in that it is one less thing to catch on clothing etc when carrying the bike, and it leaves more space on the handlebars for mounting other accessories.

3. Gears
The Tikit is equuipped with an 8-speed derailleur, operated by an SRAM twist grip. The cassette is an 11-28, with nice spacing between the gears, and an overall range of 255%. Personally I would have liked the extra range that an 11-32 would have given, even at the expense of some slightly bigger gaps between some gears (a nine-speed version would really be preferable in terms of range and gaps, and an 11-34 would offer a bit more). The chainring has 52 teeth, giving a range of about 30.5in to 78in An 11-32 cassette would extend this to about 27in to 78 in). The chainring has an outer protective ring, and is interchangeable, so it would be relatively easy to lower the overall gearing by fitting a smaller ring (raising the overall gearing might be more difficult in that larger chainrings are not all that common). I am a rather weak rider, and I prefer to pedal with a high cadence, so I would have preferred slightly lower overall gearing, and a slightly wider range. However, with small wheels and derailleurs, there can be other physical constraints, which I haven't explored - for example, frame clearances, or the type of derailleur mech used - with such small wheels, long arm mechs may have no ground clearnace, and larger gear ranges may not work with short or medium length arms.
The twist grip is reasonably positive, but subjectively felt as though the travel between gear positions was unusually short, so that under the very wet conditions of my test ride I found that it was difficult to make downward gear changes - both because, as with all twist grips, the hand slipped on the grip, but also it was all too easy in these difficult conditions to end up not just changing down by one gear, but by two, or even three. The gear change itself functioned smoothly. Adjustment to the gear cable is possible both at the rear mech and at the twist grip.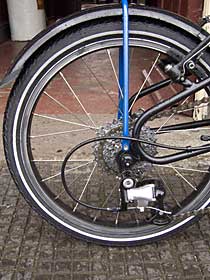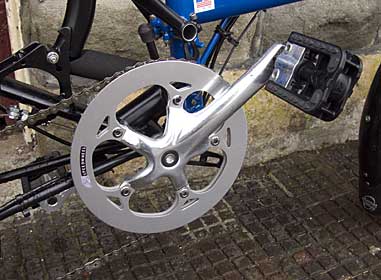 4. Brakes
The Tikit has V-brakes, the actual brakes being marked 'Tektro', while the levers are Shimano. The levers are adjustable for reach. The brakes felt very powerful and inspired confidence, though if anything the front brake might be almost too powerful (relative to the back brake), and it needed a bit of care in use, as with a fairly short lever travel it would be quite easy to snatch it in an emergency. The test ride was carried out in very wet conditions, both on the road and a towpath, but these conditions seemed to have no negative effect on braking.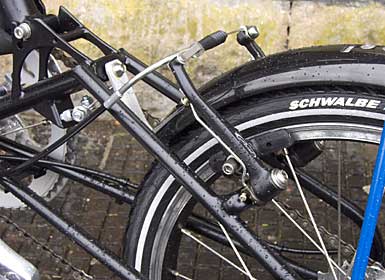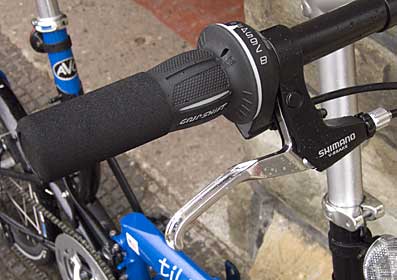 5. Wheels and Tyres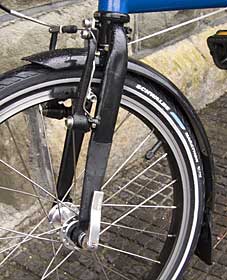 The Tikit uses the popular 16 inch wheel in 349 form, as used by, for example, the Brompton. Tyres are fairly readily available in this size, and quite a number of different makes are available. The Tikit comes with the Schwalbe Marathon 37-349 tyre. This is probably my favourite in this size - it rolls well (not as well as the Brompton tyre, the Stelvio or Primo Comet, but it is better in some other respects), it grips well, it has some tread to make light off-road riding easier and it is robust. The tubes have Schraeder valves - personally I prefer Prestas. Fort the test ride the tyres were at about 85psi, which seemed quite appropriate. Rolling resistance felt very low (as I was away from base I did not have access to my usual test hill to enable comparisons), and the ride was not unduly harsh, though not as good as a bike on Big Apple tyres. Clearance between the mudguard and tyre was fairly generous, so there should be no problems with mud causing the wheel to jam in normal circumstances. I'm not sure that there would be sufficient clearance to allow fitting of much fatter tyres though, if they were available, either in terms of mudguard clearance or clearance in other areas. Both front and rear wheels are fixed with quick releases.

6. Extras
I'm not sure about this at present. As and when more information is available, I will add it here.
7. Racks and Luggage
At present the luggage options for the Tikit are a bit limited compared with some machines- there is an optional front rack for the right side of the bike only, for which a special Arkel pannier is available. This should suffice for commuting or day rides, but might be rather limited for longer rides, shopping etc. I guess that a Carradice SQR bag could be readily mounted on the seat post, and would be an alternative for day rides etc, or for expanding totatl luggage capacity somewhat.
8. Folding and unfolding
A particular feature of the Tikit is that it can be folded without the need to manually operate any levers or catches. To fold the bike, you simply strike the back end of the saddle fairly sharply, then move the seat post forward and fold the rear end of the bike under, which operates two (for safety, presumably) cables which release the handelbar stem clamp and allow this to be folded down. Some care is needed in the sequence in which you do the operations to get it right - if you don't, you may end up with the result below - as it was raining hard, and I did not have the instructions to hand, I made a bit of a botch of folding for the photograph below, and the handlebars are not in the right position, but the picture does give an indication of the shape and size of the folded machine.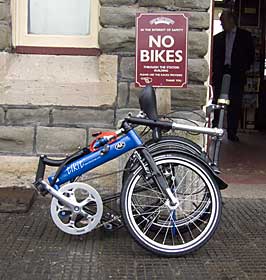 The pictures below show the handlebar stem fixing clamp and the cables which operate it as the bike is folded (in the very centre of the right-hand picture you can also see the handle for pushing the bike along when folded).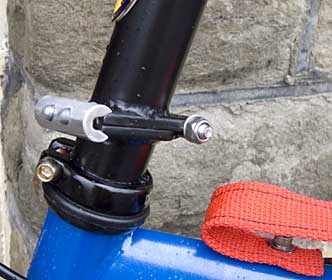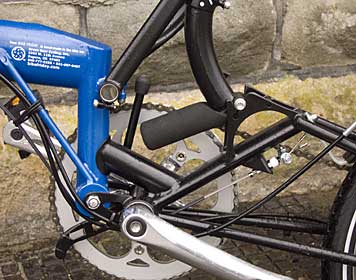 The folded Tikit is quite compact, though longer than a Brompton or Mezzo, for example. It certainly qualifies as a compact folder though, and the neatness of the folded machine would certainly mean that in most circumstances it would not be necessary to bag it. When folded, everything locks together, so that it can be safely carried without any risk of it coming unfolded. A nice touch is a carrying handle (see below), though I think this might get a bit tatty with use, especially in wet and dirty conditions. An even nicer feature, though, is that when folded the bike can easily be rolled along on one of the road wheels, so carrying would really only be necessary on steps or when boarding the train. There is even a handle specially for pushing the bike in this way - the location might suggest it would get dirty, but in fact it seemed clean and dry when the bike was folded during the very wet test ride.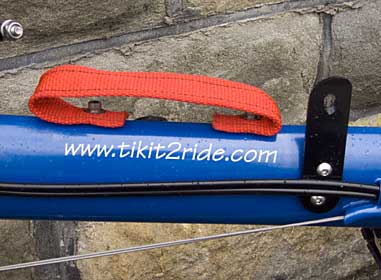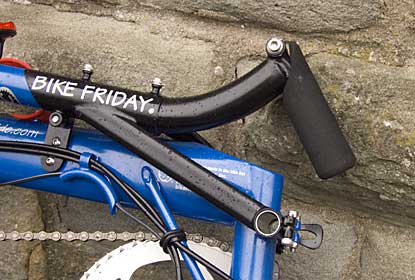 Unfolding is basically the reverse of the folding operation - one positive catch which holds the bike together when folded needs to be released manually before the bike can be unfolded.
Videos demonstrating the folding of the Tikit can be found via the Bike Friday web site.
9. On the road
As mentioned previously, this test was conducted over a 4-5 hour period, and so could not be as thorough as normal. For the test I rode from Bath to Kingswood along the Bristol-Bath Cycleway, then rode part of the way back, switching to normal roads to ride to Keynsham, then back to the cycleway to return to Bath, and pick up the canal towpath towards Bradford upon Avon (while picking up the canal I rode most of the way up Bathwick Hill to test the bike's, and my own, peformance on a longish, steepish hill). I followed the towpath to just beyond Bathampton, then joined normal roads to return to Bath.
First impressions were of very low rolling resistance, a firm ride on the unsuspended frame and with high pressure tyres (but quite acceptable), no sign of flexibility in the frame, and only the merest trace of flexibility in the handlebar stem when pulling quite hard on the bars on a steep ascent. The brakes were very powerful, and the gear range was adequate, although I would have preferred the slightly wider range an 11-32 would have offered (rather than 11-28), and this might also have overcome the fact that personally I would have preferred slightly lower overall gearing, or at least a slightly lower bottom gear (I'm NOT a strong rider). Stability was excellent under all conditions - taking one hand off the bars for signalling, or for a longer time, was no problem at all. The bike handled normal road conditions, a tarmaced cycle path and a (quite good) canal towpath very well. Folding and unfolding should be quick and easy - though in wet conditions, without access to the manual, and with no practice I made a bit of a botch of it when taking the photographs! The videos accessible via Bike Friday's web site show that if you do the fold correctly it is very straightforward. Personally I'm not entirely convinced by the cable operated handlbar stem release - it worked perfectly on test, but I like bicycles to be simple devices, and flipping a quick release catch seems to me preferable to the complexity of the cable-operated system. But I'd stress that the cable system worked fine on the test, and many people might consider that the absence of any manually operated catches when folding is a real advantage. At the time of writing I'm still uncertain about some features, such as the luggage - for the test I simply used a medium sized waist bag containing tools etc.
10. Conclusions
Choice of a folder is always a case of horses for courses and riders. Bike Friday already have a range of very versatile folders in which performance on (and off) road is the chief feature, and the Tikit is cleearly intended to be aimed more at the compact folder market, but still offering a good range of gears and general road performance. When folded the Tikit is quite compact, though certainly larger than its most compact rivals, such as the Brompton, Mezzo, Dahon Curve and Birdy. Nevertheless, its folded size is unlikely to be a problem in normal circumstances, and the folded package is neat, and latches together very firmly for carrying, with the advantage over some machines that it can very easily be wheeled along on a road wheel when folded, minimising the need to carry it. Folding is very quick and easy, though (like most folders) you need to familiasie yourself with how to do it. Personally I'm not entirely convinced about the benefits of eliminating all manual catches etc for folding - time will tell how well the automatic cable release of the handlebar stem clamp stands up to use. On the road the Tikit performs very well, with a reasonable range of gears for such a bike, and very good brakes. The unsuspended ride on high pressure tyres can be a bit harsh compared with a suspended machine, or one with Big Apple tyres, but is no worse than some competitors. Price in the UK is £870, comparable with the Birdy Red and some super-lightweight Bromptons. Probably in terms of overall specification etc the Tikit competes most closely with the Birdy. Based on a fairly short test, and some uncertainty about the details of the specification at present (27 July 2007), I would be reluctant to make a choice even for my own use, let alone for others, who will have different requirements and preferences.
The Tikit is certainly a worthy contender in the high quality, versatile, compact folder market, and well worth considering if you are looking for such a machine.
11. Acknowledgements
We would like to thank Avon Valley Cyclery for giving us access to a newly arrived Tikit, one of the first in the UK, for this test.
12. Contacts
Bike Friday: http://www.bikefriday.com
Avon Valley Cyclery/Folding Bikes UK: http://www.foldingbikes.co.uk and http://www.bikeshop.uk.com
---
Test reports | Folding Society home page | Bike Friday home page | Avon Valley Cyclery