THE FOLDING SOCIETY
---
The Airnimal Chameleon - Road Test Report
---
My previous attempt a few weeks ago to visit Cambridge to test the Airnimal having been thwarted by the local train to New Street not running, I decided this time to ride all the way to New Street for the test on 4th November. Even that arrangement seemed in danger of being unsuccessful, since the state of the railways at present, especially at weekends, makes all train journeys uncertain. Accessing the web pages suggested the service should be running, but experience earlier in the week left we with no confidence that the web pages were accurate. Attempts to ring National Rail Enquiries were a complete waste of time - a pre-recorded message still stated that they are busy, and try ringing later, then hangs up, after suggesting an incorrect web page address as another source of information!
For this outing I chose to take the Bike Friday Pocket Rocket - not at all convenient on the train (at least compared with a Brompton), but good for the 16 Km ride to New Street, and nearest of my bikes to the Airnimal for comparison purposes. The ride to the station was uneventful, and the train to Cambridge left on time. Folding the bike was not too much of a pain, and it was reasonably easily stowed in the luggage space on the class 15? train.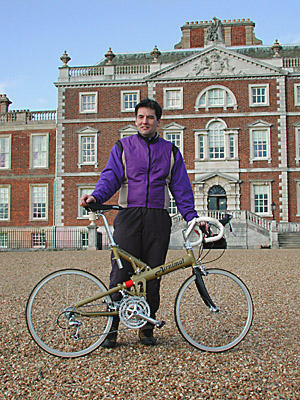 On arrival at Cambridge (on time), I eventually managed to disentangle the light and speedo from the wheel and reassemble the bike. Waiting for me were not only Richard Loke and an Airnimal, but also Malcolm Clarke on a Fold-It. A short ride took us the Richard's house. While we set up an Airnimal for me to ride, and adjusted the Rocket for Richard, Malcolm decided to join us on the ride, and went back home to switch from the Fold-It to a AM GT - with a Rohloff hub.
Before describing the test ride, we'll summarise the specification - you can find more complete details on the very comprehensive web site at http://www.airnimal.com . [Photograph: Richard Loke with the Airnimal Chameleon at Wimpole Hall]
To put the machine in perspective, it's easiest to quote the first paragraphs from the web site: "Most folding bikes put portability high on the agenda, with the ability to ride far and fast taking second place. Airnimal Designs has taken the opposite approach. With the Chameleon we have aimed to design a bike that rides like a high-quality machine, yet folds very compactly for travel. Quickness of folding was not one of our main design criteria, as we thought there are already excellent bikes on the market that achieve this." Admirably put, and no nonsense trying to pretend the bike is perfect for every conceivable purpose. If you want a bike for rail-assisted daily commuting, and the trains you would use require bikes to be folded, this is not the ideal machine for you - best choose a Brompton! But if you want a really good, fast, enjoyable road bike, which can be folded, this is a strong contender.
Specification
The Airnimal comes in two frame sizes - Size 1, the smaller, and Size 2, the larger. The main dimensional difference is frame length, the Size 1 being equivalent to a top tube length of 52 cm, wheelbase 96.5cm, and size 2 being equivalent to a top tube length of 56 cm, wheelbase 99.5cm. The frame itself is aluminium 7005-T6 alloy. A range of stem sizes and seatposts proved other adjustments, which should suit riders from about 5 feet (1.52 metres) upwards.
The Airnimal has 520 sized wheels - 24 inches in imperial terms, though the actual diameter over typical fast road tyres is 22.5 inches. While these are obviously smaller than those of a mountain bike or conventional 700C wheeled road bike, they are also noticeably bigger than the 451's on the Pocket Rocket, and substantially bigger than the smaller 406's etc. Some people have expressed concern about availability of tyres, but the Airnimal web site lists no less than 8 tyres in this size, and all are high pressure, narrowish tyres very suitable for road use (the widest is a semi knobbly 24 x 1 1/4 which could be used for light off road use and heavier touring). The St John Street Cycles web site lists two 520 sized tyres (note that thee are other 24 inch tyres listed, but not the correct 520 size - like '20 inches', '24 inches' is a term used to describe more than one type of tyre, and it's important to get the right one, ie 520 in this case). This is actually a better choice than seems available for the 451-wheeled Bike Fridays, such as the Rocket, both in sheer numbers and also in quality. If you like the IRC Roadlite available for the Rocket, one of the tyres listed for the Airnimal is also an IRC Roadlite. Richard tells me that he will be able to supply three types of tyre, so even if the full range of 8 is not always easy to come by in the UK, you still have a reasonable choice (one which owners of New Series of Moultons would kill for!). The larger wheel is chosen for ride quality (speed, acceleration etc, rather than comfort, though generally larger wheels help in the comfort department as well). Rear suspension is provided in the typical Moulton Mk III/Brompton/Birdy form, with a swinging rear triangle, but this is 'unified' rear triangle, ie the bottom bracket is mounted in the triangle (like a New Series Moulton), so that chain length does not vary with suspension movement, nor with folding - control over the chain when folding is a problem with most other designs, and is of course why the Brompton needs the tiresome chain tensioner, despite not having derailleur gears. There is no front suspension, but the Airnimal comes with carbon fibre forks as standard, which probably offer more compliance than steel and aluminium forks, but without any loss of tautness in the bike as a whole. Touring forks in aluminium are also available - they allow mounting of mudguards and a front rack. Although there are no mudguards as standard on the bike, they are available as a modestly priced option, and the front one can be attached to carbon fibre forks via P clips or cable ties (mounting bosses of any description are of course a problem with carbon fibre forks). The stiffness of the rear suspension can be altered by replacing the elastomer (like a Birdy), but only a normal and hard grade are currently available. At present the Airnimal is only available in a gold colour, though a yellow version is also listed for some time in the future.
Standard componentry is Shimano 105 - reasonably priced and generally good performance. A triple chainset (52-42-30) drives a nine-speed sprocket set (12-23). This gives a very good gear range of about 29.3 inches to 99.4 inches - quite suitable for the type of person and type of riding for which the bike is primarily designed. Personally, as an elderly, sedate rider, I would opt for slightly wider spacing of the sprockets and a lower bottom gear - say a 12-27 sprocket set; Richard tells me that a change to another standard sprocket set could be accommodated if the buyer requested this. Brakes are dual pivot callipers rather than V-brakes - personally I prefer this if the design enables enough braking effort to be applied, since I find V-brakes are usually too light and not very progressive, making it all too easy to lock a wheel, and many designs of V-brake make adjustment of the shoe to wheel alignment both critical and extremely difficult to set up.
The frame has one set of bottle cage bosses, mounted behind the seat mast - I'd rather have seen at least two sets, but it's hardly a buy/not buy matter. Apart from the mudguards, touring forks and the tyres mentioned above, other optional accessories include front and rear racks, unusually reasonably priced, a suitcase, carry-on bag, wheel bag, and (not yet available) a soft bag for the complete bike. For my purposes - train travel - I would opt for a loose drop-over Pertex cover - light and very small when folded - of the kind I use with the Brompton, Pocket Rocket and (when I had one) the Birdy. The suitcase fully encloses the bike, but does not have the ability to be used as a trailer like the ones for Bike Fridays, so getting it to the start point and disposing of it at the other end could call for some planning.
As indicated earlier, folding is less of a priority in this design than on many folders, and three levels of fold are possible. Actually, it's a combination of fold and separate. First level, which is quite quick and very straightforward, is to remove the front wheel, pivot the back end underneath, so that the back wheel goes where the front was, remove the seat pin and saddle, and hinge the seat post mast; the seat pin can then be replaced in the back of the seat mast if required. The resultant package is still bulky by comparison with a Brompton or Birdy, but is fairly easy to carry, and would be fine for stowing the bike in a car; throw a cover over it, and you would probably get away with putting it on a train like this, unless you encounter a member of train staff who got out of bed the wrong side. The second level "fold" is more drastic, and involves removing the back wheel and handlebars as well, but fits the bike into a case 58cm x 58cm x 29cm. The most drastic fold, which includes removing the front forks, enables the frame (minus wheels) to be treated as carry on luggage on a plane, in a case 56cm x 36cm x 20cm, when (to quote the brochure) ".. it's just the robust wheels and touring accessories which you'll have to entrust to the baggage-handlers". I've no experience of taking a bike on a plane, but I don't feel very confident about letting the baggage handlers near any wheels if I can help it, however robust they (the wheels) may be. As the design brief shows, this is not a compact folder for daily rail commuting if you have to fold, but it's acceptable for a weekend, or a few days away, or a long day ride with train (or car) travel to or from the start point. And for such uses, presumably involving longer rides, you should have access to a really high performance machine when you are riding.
On the road
So how did the bike perform on the road? On my way to Birmingham, and then in Cambridge, I had been distinctly conscious of the rather harsh ride of the Pocket Rocket, so the first thing I was looking for on the Airnimal was how it rides. Rear suspension is via the now common method of a hinged rear triangle bearing on an elastomer - simple, maintenance free and light. The elastomer can be changed to suit particularly heavy riders - I rode with the softer version, but at my (very light) weight a softer elastomer would have been better. Richard commented he had rarely seen so little deflection of the elastomer - I think this is not just a question of my light weight, but a fairly gentle and smooth riding style, perhaps influenced by 35 years of riding Moultons! Nevertheless, the rear suspension proved effective at taking the sting out of bumps, and for a fast road bike of this kind, most owners are likely to prefer a firmer ride to one which is too soft. More interesting potentially was the behaviour at the front - no suspension, but carbon fibre forks. CF forks are potentially lighter, stronger and more resilient than steel or aluminium. I was most impressed by the performance on the road - the front end felt stiff, but with enough compliance to take the sting out of bumps. Overall the ride, while not in the Moulton or Birdy class, was quite comfortable, and definitely more comfortable on British roads than the Pocket Rocket, or indeed the NWT. While it may lack the ultimate comfort of fully suspended, softer, systems, it has the advantage of no bobbing, bouncing or diving when pedalling fast, working hard on hills, or braking. I would add that on some surfaces where just the top dressing had gone, where even a New Series Moulton is not very happy, the ride was as good as anything I have used, both from the point of view of overall comfort and lack of high frequency vibration.
Being in Cambridge, the terrain was very flat, with only a couple of quite gentle hills, for which the middle ring of the triple chainset was adequate. In fact the gearing was a bit on the high side for me, and I hardly needed the biggest ring either. The gear change, with Shimano STI levers, was superb, though I had some difficulties remembering just what to do to change gear, the operation being distinctly different from that of the Campag system on the Rocket.
The bike felt extremely free running and was certainly the equal of the Pocket Rocket in this respect, perhaps even better. Also, like the Rocket, it was an exhilarating ride - fun, and it encourages you to ride faster. Perhaps it's significant that I commented towards the end of the ride that it felt as though the wind had been behind us all the way - it wasn't of course, but the bike ran so freely that it felt that way.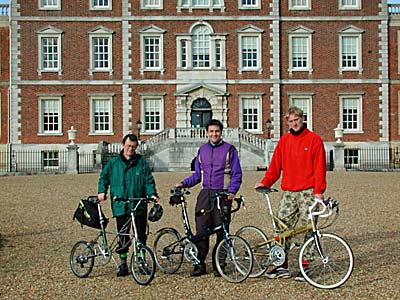 The bike I rode was shod with narrow road tyres (though not the fastest ones available). These had only a light tread, comparable with the Roadlite or the Primo Comet, but they seemed to have plenty of grip on the road, and certainly ran freely enough. I doubt if I would want anything more sporting for my type of use, though if I were to use the bike in a more "touring" mode, something a shade wider with a bit more tread might be more suitable. Richard tells me that there is a very free running semi knobbly tyre available which would meet that requirement. [Another picture at Wimpole Hall: Malcolm and the AM GT on the left, Richard with my Pocket Rocket in the centre, and Richard's friend Jim with the Airnimal on the right. This is the Airnimal I was riding, but the seat was raised for the photo to look more suitable for Jim - he was actually riding a slightly older Airnimal with the larger sized frame. ]
Handling generally felt very good - very stable, but still very responsive, and I immediately felt comfortable and confident with the bike. The combination of the rather larger wheels, rear suspension and carbon fibre forks meant that rather than slowing down, standing on the pedals out of the saddle, or watching the road for irregularities and steering round them, as I had on the Rocket on the way to Birmingham, I could largely ignore the road, apart from potholes, which I would avoid even on my Moultons or Marin full-suspension mountain bike. The brakes proved quite adequate and were very progressive and controllable.
Although I'm not a fan of aluminium for frames (see reports elsewhere), this one is very sturdy, and quality of manufacture is excellent, and the bike certainly felt light when lifted. The bike comes without mudguards as standard - fortunately this was a dry day - we were unusually lucky in this respect. I regard mudguards as essential - even in the worst wet weather they provide some protection for the feet, ankles, back and bum from falling rain and spray from the wheels - I entirely disagree with the correspondent in the latest issue of Arrivee (The Audax UK magazine) who argues that they are of no value in very wet conditions on long rides. Front and rear mudguards are available as an option. One nice thing about the Bike Friday mudguards is that although they look rather ugly and strange, and don't provide quite as much protection as some types, only one bolt is needed to hold each mudguard, which means you can take them off or replace them very easily to suit conditions - the Airnimal mudguards are more conventional, so really you make a decision either to fit the bike with them permanently (or for at least days or weeks on end), or to leave them off. For a fast road bike, the Bike Friday solution is certainly attractive, though apparently unique, or almost so.
With a train to catch, time had run out when we got back from our ride, so I did not have time for a detailed examination of folding options etc - though I was given a quick demonstration. Although you need to remove the front wheel for the first fold, and this first fold results in a fairly large package, which is still recognisably a bicycle, the process is very straightforward and foolproof, and the unified rear triangle means the chain stays under control. For this reason I'm inclined to rate it as at least as good, and probably slightly better, than a Bike Friday - acceptable at the beginning an end of a longer, faster ride, particularly if the riding is over several days, but definitely not something one would want to do several times each day. That's entirely in line with what the bike was designed for, so this is just a restatement of the intended use, not a criticism. It's worth adding that the bike is very light (about 10Kg) and its extremely easy to pick it up and carry it in the unfolded state - lift by the horizontal main tube, hook the saddle over your shoulder.
The Airnimal is available direct from Airnimal Designs, and you can find details on their web pages (http://www.airnimal.com), and is expected to be sold through a very small number of specialist dealers, such as Avon Valley Cyclery (See their FoldingBikes web site for more details - http://www.foldingbikes.co.uk). Price is about £1200 for the standard model without mudguards, carriers, bags etc, or pedals (very much a personal choice, though the same could be said of a saddle, which is included). A pair of mudguards cost £18.80, and the front and rear racks are £18.80 each - pleasing to see that extras are not charged at an exorbitant rate, unlike some manufacturers.
Conclusions
So overall, how good is the Airnimal? As the web page information and the specification make quite clear, this is not a compact folder for rail/bike commuters who have to fold their bikes several times a day. This is a fast road bike which can be folded - ideal for fast day rides, audax rides, etc, and quite capable of being used for at least medium/heavy touring. It's difficult to make an entirely fair judgment of performance when you are not riding on your usual roads, and the terrain is so different from your home area, but I was certainly very impressed by the running of the Airnimal. For the type of use for which it is designed, I think it makes a good choice. Its most obvious direct competitors are Bike Fridays, especially the Pocket Rocket and Air Friday models. I don't ride very far or very fast, but I do like a good road bike, especially if I can keep a Brompton or (better still) SP for occasions folding is a higher priority. For my type of riding I would rate all these three bikes very highly, but the Airnimal narrowly gets the vote from me, based on the ride qualities of the proper rear suspension and the carbon fibre front forks. Looking at competitors - whether they are folders or good quality road bikes/tourers/audax bikes etc - the Airnimal looks reasonable value for money. We will have some more comparisons in the next issue of FSN.
Would (will!) I buy one? If I hadn't already got a Pocket Rocket, and was thinking of a purchase in this market sector, then very probably. Even with the Rocket, I'm tempted ... watch this space!
---
---
Copyright (C)2000 Ferrets Anonymous
Last updated: 8 November 2000
URL: http://www.foldsoc.co.uk/airnimalrt.html