The Folding Society
Avon Valley Cyclery/Mud Dock Ride, 7th December 2002
---
The idea of a folder meeting and a ride starting from Avon Valley Cyclery (AVC) in Bath was suggested a few weeks ago by Graham McDermott, and he made the necessary arrangements with AVC. The date was selected to coincide with a regular Mud Dock Ride in Bristol, so that this time the ride could start from Bath and follow the Bristol-Bath cycle route back to Mud Dock.
Avon Valley Cyclery is one of the biggest, and perhaps the biggest, folder dealer in the UK, and they certainly have a bigger stock and range of different folders than any other dealer. Our meeting was planned to give us the opportunity to test out some folders which members had not had a chance to try before.
Graham kindly invited me down a few days early to stay with him before the event, which gave time for us to meet with AVC the day before, and do a bit of planning, as well as pursue our shared photographic, computing and cycling interests.
Thus it was that I travelled down to Bristol by train on Thursday 5th, and then cycled from Bristol to Bath along the cycleway, and then on to Bradford on Avon along the canal towpath. Although the day started rather grey, some weak sunshine made conditions better as I neared the end of the ride. The choice of folder I would take with me had been between the Bike Friday New World Tourist (NWT), Birdy Red and Henry the Green (T6) Brompton. As no serious cycling was planned, and convenience of getting on and off trains was a priority, Henry was the final choice, even though Brompton tyres and mudguard clearances are not ideal for towpath riding in wet conditions. On the cycle path the Brompton bowled along very effortlessly, but the towpath did prove to be rather harder work on the rather smooth high pressure Brompton tyres. Although there were no very muddy sections, the mud nevertheless did build up between the tyres and both mudguards, which did not help - I do wish the Brompton had slightly more generous clearances.
Henry got a bit muddy in the process of travelling down the towpath, but as we were planning to go into Bath the following day, I didn't bother to do any cleaning on arrival. Due to the conditions and a lack of energy on my part, I covered the 49Km in record slow time, but I was still there by early afternoon, which gave plenty of time for chatting and messing around with computer equipment before an excellent evening meal at a Thai restaurant in Bradford on Avon.
The Thai Barn, near the bridge in the centre of Bradford on Avon - a good place for a meal

Friday was another rather grey day, and Graham decided to take the train to Bath, while I persisted with the plan to cycle there. Knowing from Thursday that the towpath was rather muddy, I took a quiet road route to Avoncliffe; unfortunately it turned out that Jones Hill really lived up to its name - quite a long and steep ascent. I did just manage it on the T6 in bottom gear, but it is a route I shall avoid in future. The subsequent descent into Avoncliffe was sufficiently precipitous that I was glad of the much improved brakes of the T6 - owners of unmodified Mk II Bromptons would be well advised to exercise extreme caution on this descent. From Avoncliffe I followed the towpath to Bath, arriving at AVC just a few minutes before Graham. We had a brief discussion with Richard Grigsby and Gary Cooper, and went into Bath to buy some mince pies for the next days event (at AVC's expense), plus lots of wine to keep the two of us going over the next few days. I rode back to Bath, taking the towpath the whole way, while Graham took the bus.
As I came into Bradford on Avon it became evident that the rear tyre was very soft; a brief investigation indicated a slow puncture, so I blew it up and was just able to get back to Graham's house before the tyre went down again. After hosing the bike down I replaced the tube - I prefer Presta valves, but have delayed replacing Henry's tubes until I needed to take them out anyway. It turned out that the Presta replacement I was carrying already had 4 patches on it, but fortunately it stayed up after fitting it. The main problem in changing to Prestas (which I find much easier to inflate, and hold air better than Schraeders) is the smaller valve diameter, but I already had some rubber grommets with me to use to bridge the gap when putting in the replacement tubes.
During our photographic discussion that evening we decided that Graham would produce a video of the next day's events, while I would concentrate on still photography - I guess we must both have had too much to drink!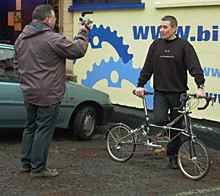 Graham interviews Richard Grigsby at Avon Valley Cyclery

Saturday turned out to be another grey day. We made a fairly early start in order to be at AVC before any of the visitors. With the ride ahead of us, it seemed sensible to conserve our energy and take the train to Bath, where there was just time to get the mince pies out before the first of the other riders turned up. One bike we hadn't seen the previous day, but which was available for testing today, was the new Airframe. This and the r&m Frog were new to almost everyone at the event. Although there were some differences of opinion, I think it is fair to say that the majority of those who tried the Airframe found the distinctly flexible frame (perhaps we should really blame the joints) very disconcerting. Views on the Frog were more mixed - some found it fun, but overall I think it is reasonable to say that the steering felt rather odd, the very fat, small diameter, tyres felt rather soggy (it was difficult to pump them up as it is hard to get a pump onto the valve with such small wheels), and it is not a bike you could contemplate riding for any significant distance. It certainly folds into a small package, but for me the disadvantages far outweigh the advantages.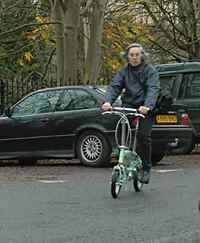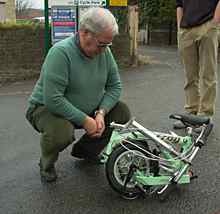 Philippa Wheeler thoroughly enjoyed riding the Frog, while Peter King looks thoughtful as he contemplates the very compact folded form
20 people attended the proceedings at AVC, and of these 17 were taking the cycle path to Bristol. The bikes consisted of one Bike Friday New World Tourist, a Birdy Grey (fresh from a service that morning at AVC), a Birdy Red (the shop demonstrator), one Moulton APB, one AM Moulton, 3 SPs and the other 9 were Bromptons of various kinds. Rather to my consternation I realised I was ride leader - Graham's video shows a very resigned expression on my face as the ride left AVC!
Before we even reached the cycle path, one Brompton suffered a puncture, which delayed proceedings somewhat, before we were able to resume the ride at a leisurely pace along the cycle path. On arrival at Bitton we found the Avon Valley Railway was running Santa Special steam trains, with plenty of action, so by common consent we made an unscheduled stop for refreshments and to watch the trains.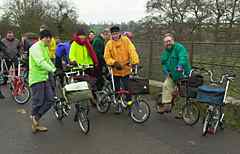 A brief pause to regroup on the cycle path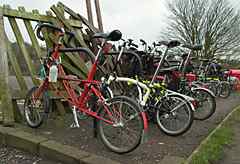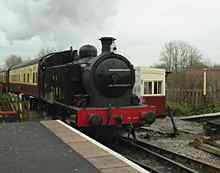 Folders and steam at the Avon Valley Railway at Bitton
Not long after leaving Bitton we suffered the second puncture - this time on Paul Stobbs' Bike Friday. As time was getting on, and Paul is more than competent to fix a puncture and then catch the rest up within 10 Km, we carried on and left him to fix it, and indeed he was able to catch us just as we reached the Bristol end of the cycle path. We were considerably behind schedule at this stage, and with the short days, it was decided that those who needed to cycle back to Bath would turn round and do this at this point, while the rest proceeded to Mud Dock, or in some cases, to catch trains in Bristol. I was one of those cycling back to Bath, so I can't report on the Mud Dock activities, though I gather that everyone got there safely. Our ride back to Bath was uneventful, though it was dark by the time we got there, and I think we were glad not to have set off back any later.
Paul Stobbs at work on his puncture. The improvised workstand is an Australian idea!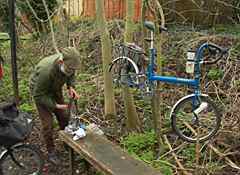 A new sculpture on the railway path

I certainly enjoyed the ride, and I hope everyone else did. However, Graham's video finishes at Mud Dock with the isolated phrase on the sound track from someone " … in Mike's defence I must say …". Evidently as usual I managed to offend someone (or perhaps everyone) by something I did, or perhaps by something I didn't do or should have done, so although I can't work out what it was (other than, of course, being me), I apologise anyway.
A fair part of Sunday was spent editing Graham's video - I was just an observer, never having done any video work before, but it was great fun. The cut-down version runs for just under 15 minutes, and is a good record of the event - we just need to work out how we can make a few clips available on the web (more news if/when we achieve this).
The weather on Monday was not too bad, so I decided to ride back along the towpath to Bath and then follow the cycle path to Bristol, all of which was achieved without any problems, and the trains conveyed me safely and on time to get home by mid afternoon.
Overall I think this was a very successful event, and we are already thinking of a repeat in 2003, but a little earlier in the year, and perhaps with some additional activities so that there would be things happening on both the Saturday and Sunday. We'll let you know when the plans are more complete. Finally, thanks are due to Graham McDermott for the idea and all the planning, and to Avon Valley Cyclery for their hospitality and letting us try the various bikes.
---
Folding Society home page | Event reports page
---
Copyright (C)2002 Ferrets Anonymous
Last updated: 13 December 2002
URL: http://www.foldsoc.co.uk/avc2002.html