The Folding Society
Using folders for longer rides
The Cotswold Outing Brevet Populaire, 12 June 2005
---
Introduction
In July last year (2004) a group of 5 folder enthusiasts took part in the 100Km Brevet Populaire at Uffington. We enjoyed the experience (report available here), but it was a fairly hilly ride, so when we were thinking of another similar group ride this year, we decided to try to find a less hilly one, and selected the 100Km Cotswold Outing, starting from Cheswick Green. Last year's group was joined this time by Paul Evans, who had not taken part in one of these Brevets before.
The choice of bikes was as follows:
Susan Barlow - here regular 5-speed Brompton with double chainring; the bike also has an SP suspension handlebar stem/
Paul Evans - Moulton APB with Sachs 3x7 gears
Tony Hadland - Moulton APB, with Sturmey-Archer 8-speed hub gear and 451 wheels rather than the normal 406's
Dick Hanson - Moulton AM7
Dave Minter - a Moulton Stowaway, fitted with a single speed fixed gear of about 69 inches
Myself - SP-Brompton, with 7 speed derailleur and V brakes
Although Tony was on the same bike as last year, it now has the latest specification version of the Sturmey hub fitted.
As the ride took place on a Sunday, public transport was not available, so getting to the start meant either driving, or riding there, presenting problems for those without cars. I gave Susan a lift from Tamworth, but as there is no space for 3 people and three bikes - even folders - in the Smart, Dave rode there. I had been thinking of using the Dahon Jetstream XP, as I did for our ride last year, but a quick check proved that it was not feasible to get this and a Brompton, and a passenger, into the Smart, so I chose the SP, which had been used on the previous day's Origami Ride from Hucknall. The Dahon goes into the Smart quite easily on its own, but the extra width and length means that there isn't enough room to squeeze another bike in there. The SP was used on another Brevet some years ago without any problems, so as this was billed as a fairly flat and easy ride, I did not have too many qualms.
When Susan and I drove up, a number of bystanders expressed surprise that there was room for a bike in the back of the Smart - when not just one but two bikes emerged, they were even more taken aback. As we finished unfolding, we spotted Tony making his way to the signing on point, and Dick and Paul were spotted soon after. Light refreshments were available at the start, so after a quick drink, we emerged to await the arrival of Dave, and the start of the event. Unfortunately Dave had left home rather later than planned, and had still not arrived by the official start time. Dick decided to go off with the main group, and was never seen again by the rest of us during the day; the rest of us waited for Dave, who arrived looking rather hot and bothered about 15 minutes later. After a quick drink, and signing on he was ready to go, and so we left about 20 minutes behind the rest of the participants.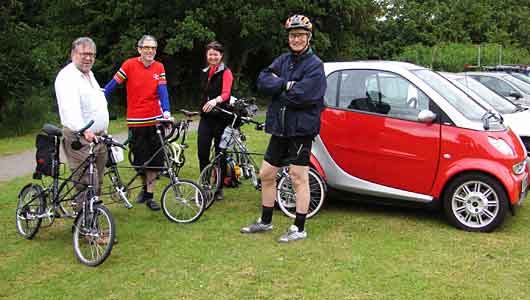 At the start: Paul Evans (Moulton APB), Dick Hanson (Moulton AM7), Susan Barlow (Brompton), Tony Hadland (Moulton APB), and Fred (infernal combustion engine); Dave Minter had not arrived at this stage.
The ride
The first sector of the ride was from Cheswick Green to Long Marston, 36Km. This was on quiet roads, but with a good road surface, and apparently generally down hill, so that it was easy going. We had started rather late, and were riding at a fairly gentle pace, so we did not see any other participants, and by the time we reached the control at the Barn Antique Centre, all but one other rider had already left - which had the big advantage that it was easy to get for refreshments and collect the stamp from the control. We were well inside the maximum allowed time - in fact the chap on control told us that quite a number of people had arrived there before the allotted opening time!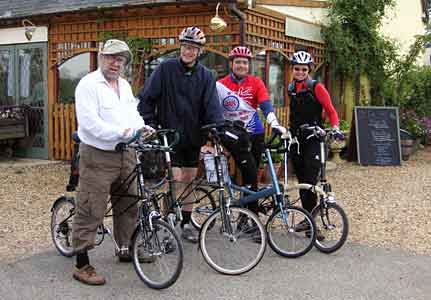 Just before leaving the first control - Dave (Moulton Stowaway) had joined us, but Dick had gone on ahead, by now.
After a short break, we resumed the ride. The second stage took us from Long Marston to Wellesbourne, a distance of 35.8Km, again almost entirely on quiet, well surfaced roads, and without any serious hills to climb. There were a couple of information controls on this section, where participants had to note down some details on their Brevet Cards, to prove that they had followed the route. Once again we were well inside the maximum time when we reached the control at Montford Airfield, and this time there were some other riders there, finishing their meal. We stopped here for lunch, and watched planes taking off and landing for a while before starting the final leg. By the time we left, all the other riders were once again ahead of us.
The final stage was from Wellesbourne back to Cheswick Green, and though this was the shortest section, at 29.6Km, it was the hardest, as legs and bodies were tiring, and it was predominantly up hill, although there weren't any really serious climbs. As with the rest of the ride, we were on well-surfaced but quiet roads the whole way, with nice scenery. As we made our way back on this section at a gentle pace, we saw a lot more riders. No, we didn't catch anyone up, but we were passed by many of those who had left earlier on the longer rides - as well as our 100Km 'Cotswold Outing' there was a 150Km 'Cotswold Journey' and a 200Km 'Cotswold Expedition'. Susan went on a bit ahead of us during the closing stages, but when the rest of us finally trundled in to the finish, we were still well inside the time limit. Refreshments were available for the participants, who also received a certificate and a water bottle to commemorate their successful completion of the event.
After recovering our strength, it was time to see about getting home. We changed the travel arrangements for this, Susan and Dave travelling back with Paul. This meant that we were able to see if an SP-Brompton and Moulton APB could be fitted into the Smart. The answer is 'yes' - provided there is no passenger. The back part of the APB and the SP went very easily into the back of the car, and the front part of the APB went comfortably into the front seat area.
Although it had been moderately warm and sunny when I left home, by the start of the ride it was rather cooler and a bit dull, and apart from Tony none of us had chosen to ride in shorts. Fortunately it warmed up slightly later in the day, and though Tony was not too cold in shorts, none of us were uncomfortable in longs either. There was just the faintest trace of moisture in the air at one point, but nothing to justify stopping to don waterproofs, so all in all the weather was kind to us.
The bikes
Normally in reporting an event like this on these web pages, I would try to provide lots of information about the bikes and how they performed. Unfortunately, or rather fortunately, there is very little I can say on this subject, as there were no dramas, no punctures, and really almost nothing to report. Paul had some problems with the hub section of the 3x7, though it did not seem out of adjustment, and I've never had any such problems myself (the bike was actually mine, APB no. 32). Gear selection (derailleur) was also less than perfect on the SP-Brompton, as usual - some persuasion is required when changing down, but at the same time upward changes are sometimes sluggish; adjustment, re-cabling and fitting a rollamajig at the back have never completely solved this, so I live with it. Knowing that this should be an easy ride, I would probably have chosen the Dahon Jetstream XP rather than the SP had there not been transport limitations, as it has more and slightly wider gears, the bike is lighter, and the gear change is faultless. I can't use it for some Brevets though, as mudguards are still compulsory for some of the events (though not this one), and at present there is no provision for mudguards on the bike (though I understand they may be available soon).
Dave had to take a bit of a run at the hills - with a single-speed fixed you can't go slowly on a hill - but of course had no problems with what for him is a short ride. The rest of us got round without any difficulties - in fact this was probably the gentlest, easiest Brevet Populaire I have done. Particular congratulations go to Paul for successfully completing the event, as it was the first such ride he had done. Although the five of us were the last to get back, Dick apparently was amongst the first finishers, it's just a pity that this meant we never saw him after the start, and he and Dave never met that day!
Conclusions
This was a most enjoyable ride - quite a long ride for some of us like myself, but at a comfortable pace, and on quiet, well-surface roads with no serious hills, and very pleasant countryside. A good ride, in good weather, with excellent company. The organisation was superb in terms of the route, the accuracy and clarity of the route sheet, the marshalling of car parking at the start, refreshments at the start and finish, mementos in the form of the certificate and water bottle for participants, etc. There were also photographs of the event on display at the finish, and the control stamps included a colour picture relevant to the control visited. We cannot praise the organisation of the event highly enough - many thanks to those involved.
Brevet Populaires vary quite a lot in their character - the Elgars Wheeltracks one I did a few weeks ago was much harder in terms of hills. I must say that gentler ones are more to my taste. For this ride the SP with its 7-speed derailleur giving a range of about 29inches to 74 inches was more than adequate even for a weak rider like myself, where on Elgars Wheeltracks I was glad of all the gears, from 21 inches to 106 inches, on the lighter Airnimal Chameleon. The Airnimal remains my preferred choice for this type of ride, unless I know that it is going to be an easy one, and/or there is a transport problem (though we did just manage to get the Airnimal and a Micro in the back of the Smart, albeit it took some fiddling, and needed good light to be able to see to shoehorn everything in).
---
Folding Society home page | Audax UK
---
Copyright ©2005 Ferrets Anonymous
Last updated 16 June 2005