The Folding Society
Watching the Tour de France with a Brompton
By Susan Barlow


---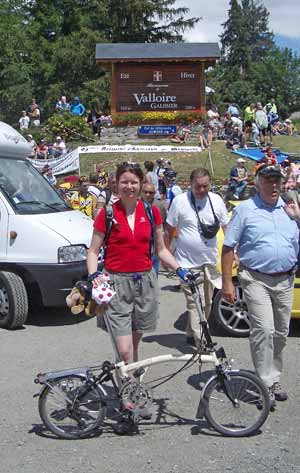 Remember those boring school projects, "What I did on my Summer holidays"? Well, I took my Brompton to the South of France, together with Dave and his big-wheeled Frezoni (allowing him his Tour de France fantasies).
We flew into Lyon and took the TGV to Nimes for a couple of days, allowing us to cycle out to that great feat of the Romans - Pont du Gare. I'd wanted to see it for a very long time and the scenery was fantastic. Riding past fields of sunflowers and through parched rocky landscapes makes a big change from England's green, gently rolling hills.
We got to Grenoble by TGV (just how trains should be - big, quick, clean and on-time) where I found out how the Tour de France spends a rest day. Dave chased Cols instead - mountain passes, not blokes. He said that riding 50km out to Le Bourg d'Oisans for a morning circuit of Alpe d'Huez, the Col de Sarenne and up the balcony road with an AUK group was great fun. Tackling the Col del la Croix de Fer after lunch was probably not sensible but was definitely memorable. How do people complete La Marmotte? Even more mountains AND finishing up Alpe d'Huez, amazing!
The excuse for visiting this part of France, if any was needed, was watching the Tour de France racing through Alpine scenery. We were based in St Jean de Maurienne - nestled in a narrow Alpine valley - with a coach to get us near the action of Stages 10, 11 and 12, courtesy of a Sporting Tours package. Each day we would cycle up the mountains to find the ideal place to watch Le Tour. Then I would be astounded at just how fast they raced up the same climb. These men are just cycling machines!
I have now climbed 2 Alpine mountains on my Brompton - up to Coucheval and the Col du Telegraph. The crowds along the road would actually cheer the "girl on the little bike". Even other riders would offer a "Bravo!" as they passed. If it wasn't for all the cheering, I might have got off and walked - it was such hard work.
Being a spectator was surreal. We'd find a good position to watch the race - about 3 hours before the riders were due. There would be so much anticipation in the air as we waited, listening to hear any race news from someone's radio and doing my best to understand the French broadcast. At some time, we'd inhale a picnic lunch, usually pain avec fromage and some little pastries, carried up in Dave's saddlebag.
About an hour before the race came through, the publicity caravan would arrive, flinging out free water, chocolate, bags of lollies, bags of coffee, hats and inflatable batons to wave at the riders. There would be loud music blaring and everybody would dance and wave to the music while trying to catch gifts from the pretty girls in the caravan. Then the roads would go quiet again and we could track the leaders' progress by the helicopters circling above them.
On the first day we watched from near the finish at Coucheval, just above Le Plaz (an exhausting, long 18km of continuous climbing for me and an easy day for Dave :-). Alejandro Valverde (the winner that day) came past with Armstrong leading a small group in hot pursuit. It is amazing to be so close to the riders, they almost run over our toes. The field was scattered along the road that day with huge gaps appearing between small bunches of drained riders.
The next day we cycled to the top of the Col du Telegraph (a 12km climb up a steep ravine with some nasty switchbacks). I had to rest partway up and had trouble starting again on the steep slope. A spectator actually gave me a push so I could keep going. I can't imagine that happening anywhere else!

It was fun eavesdropping on a couple of Englishmen exclaiming about "A Brompton up here!" On the other hand, hearing someone's call of "Don't die, Brompton brakes are terrible" was not too encouraging, just as we started our descent down the mountain.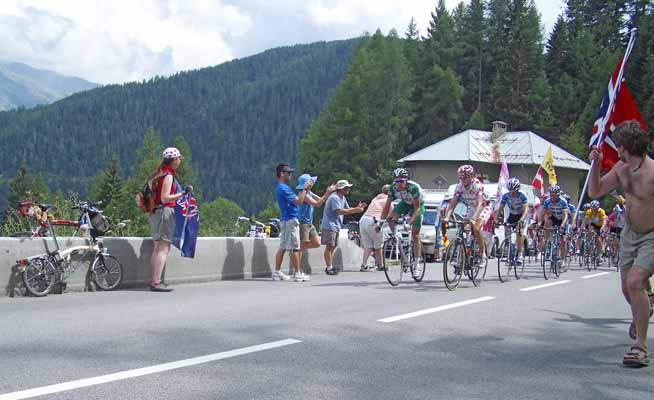 On our last day watching the Tour, at the Stage 12 start in Briancon, I managed to chat to a couple of the Aussies - Stuart O'Grady and Bradley McGee. Dave rounded out the day by riding back to the hotel, over the Col du Galibier (as he said, at about a third the speed of some riders :-).
We rounded out our trip with an afternoon with Arnfried and Gisela Schmidt, living near Mont Ventoux. Unfortunately, time was too tight but good company and enjoying a bicycle collection is always like that. Arnfried is interested in bicycle history, Moultons and HPV's but his current project is building a banked velodrome in his backyard. I'm exceedingly jealous and not just because of the juicy figs growing there.
For the tech-heads: Susan had a modified T5 Brompton using an SP front derailleur mount with a Campagnolo front derailleur. A Stronglight crankset with 48t and 32t chainrings turned a 14t rear cog for a gear range of 82"-24". The original brakes were replaced by dual pivots front and back. Dave's S&S-coupled 700C Frezoni was geared 104"-33".
---
---
Copyright (C)2005 Susan Barlow
Last updated: 5 September 2005