The Folding Society
Event Reports - Swindon Smallwheels September 2002 Ride
---
Regular visitors to the web site may have realised that I have been away for just over a week - a visit to a photographic workshop on Inversnaid, on which I may produce a report later. I got back at 9:00pm on Friday 20th September, and needed to get up early to travel to the Swindon ride the next day.
For once my choice of bike was easy - I didn't take one at all! The reason for this apparently strange decision was the fact that I had lent the Airnimal to Dick Hanson after the last ride, and the plan was to recover it this time. Although the walk to Tipton station was a bit of a bore, the lack of the need to fold and bag a bike, lug it between platforms at Birmingham New Street and then stow it on the train to Swindon was some compensation.
The train ran on time, and on arrival at Swindon the walk to the Designer Outlet Centre was no great hardship, especially as the majority of the route is the wrong way down a one way street, so that I would have had to push a bicycle anyway.
I arrived very early as usual, as catching this particular train avoids having to make any changes between New Street and Swindon (more of a nuisance when I have a folder with me than unencumbered as I was on this occasion). Coffee and a slice of cake occupied the time before other riders started to turn up, and conversation on cycling could start.
After refreshments - and Dick had been persuaded by Hazel to buy some new shirts - we made our way to the cars to get the bikes out. The Airnimal disgraced itself at this point, being found to have a puncture, although the tyre had been checked only the previous day. There was a slight delay while we attempted to fix this before setting out. We are able to follow off-road, but paved, cycle paths most of the way, before joining a railway path, and then more paved cycle paths to country roads - a most pleasant route. During this ride it became evident that the tyre of the Airnimal was still deflating, but by adding air a couple of times we were able to get to the lunch stop. While the others partook of a meal, I replaced the offending tube (naturally, it was on the back), and this seemed willing to stay inflated.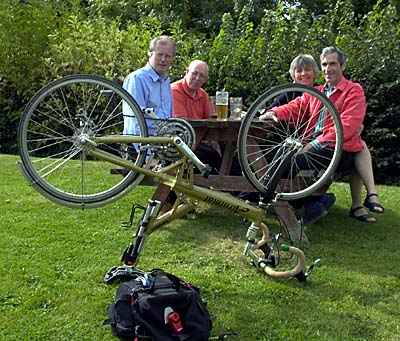 Photograph: The Airnimal after repairing the puncture - despite what some experts say, I find it easier to invert the bike to do this job. Foreground: Airnimal Chameleon, background, left to right, Mike Roberts, Chris Dent, Hazel Hanson and Dick Hanson.
After lunch we retraced our wheel tracks, with a brief stop in a park for ice creams, getting back to the Designer Outlet Centre by about 3:45pm. The weather had been superb throughout, and but for my need to catch a train at 4:00pm, the ride might have lasted longer. The distance covered was a bit less than usual, affected by my tyre problems, but by the time I got home, after another untroubled train journey, I had covered about 29Km. Regrettably, somehow on the way home I managed to mangle the clip which holds the rear triangle in place when/if the bike is lifted. I contacted Richard Loke of Airnimal Designs about a replacement, and a couple of additional tubes, and these were promptly dispatched, although less promptly received due to the 'good offices' of the Post Office (or whatever they are currently called).
This had been a very enjoyable day, and thanks are due to organiser Mike Roberts, and all the others who came. If you have not been to a Swindon Smallwheels ride before (or if you have), please try joining us some time in the future. The rides take place on the third Saturday of each month, and start from the Designer Outlet Centre in Swindon - right next to the steam railway museum, so if we have really dreadful weather any time, we can pay a visit there instead of riding. We meet from about 10:15am for a ride starting at just after 11:00. If any change of venue is planned, it will be advertised on this web site.
---
Folding Society home page | Event reports page
---
Copyright (C)2002 Ferrets Anonymous
Last updated: 27 September 2002
URL: http://www.foldsoc.co.uk/swindon0902.html