TINCAN TEARAWAYS
Being an exciting sequel to previous adventures in cycle racing
By Dick Hanson
---
Tincan Tearaways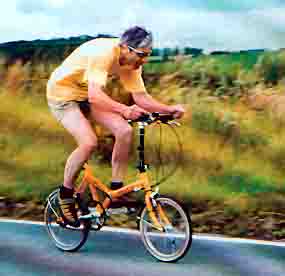 The 20th of July had arrived, Tin Can Ten day! For those who haven't read my previous article, this is a once a year ten mile time trial (actually 10.8 miles) for hub geared machines. It is held on a course near Kegworth in Nottinghamshire, between Loughborough and Nottingham.
An early start from Cheltenham with fellow competitor Brian Donnan saw us at the start approximately two hours early, so great was our excitement. Our finely tuned racing machines, a Birdy Blue and a Pashley Micro were just being unloaded when a further contingent from the Folding Society arrived in Paul Evans' BMW.
Photograph: Dick in action on the Micro Photograph by David Eccles.

But what was this! Dave Minter's creaking old Moulton had been transformed into a sleek racing projectile, all SPDs and aero bars. Evidently when reports of my race preparations reached his ears he went into a frenzy of training and bike modification. At least he wasn't wearing Lycra. The normally placid Folding Society was being rocked by cut throat competition.
Also in Paul's car was the third member of the society's original race team, Susan Barlow, Dave's wife. She appeared very nonchalant with a well turned out standard Brompton, devoid of the gizmos sported by her husband's machine. However, she did have a backpack of water, boasting a drinking tube for on the move lubrication. Was the pace to be so intense that dehydration would be a real possibility?
With all the machines unloaded and plenty of time to spare, it was decided that our group would do one circuit of the course. What a jolly time we had! I convinced myself that I could do the whole race in top gear and Paul convinced himself that taking part would not be too bad after all.
On completing the circuit it was time for the pub and a bite to eat. This meant eating and drinking enough to keep going during the race, but not too much to feel weighed down. It required fine judgement, so we restricted ourselves to several pints of beer and the fish and chips on special offer.
Apart from our small wheeled group, a further Brompton and an APB Moulton appeared on the scene. The Brompton was modified with an additional pair of very low handlebars beneath the standard ones. Was this for speed, or did it demonstrate a lack of faith in Bromptonís originals?
It was soon time to get back to the start, sign on and get our numbers. By now Paul was all fired up to race his standard Brompton, so this meant that we had at least six small wheelers competing. As Brian's Birdy had a derailleur as well as a hub gear he promised to stay on one rear cog. Various seals were suggested for the changer to prevent him using it, including a small explosive charge which would destroy the rear wheel if the derailleur moved. In the end we decided to trust him. More of that later.
Braving the horrors of the safety pins, our numbers were soon fixed onto our backs and the tension mounted as we waited for the off. Brian was 19, one in front of me at 20, Susan followed at 21 with Dave at 22. Paul was somewhat later, deciding to completely eschew race clothing with trousers tucked into socks, mobile phone in shirt pocket and trademark floppy hat.
Number 1, a superbly turned out shopping bike powered by an enthusiastic woman shopper, roared off the line and the Tin Can Ten 2002 had started. Successive machines of all manner of description followed at one minute intervals. One entrant was riding his sisterís bike. Evidently this was hauled from the back of the shed each year for the Tin Can Ten. It had odd pedals, one of which was very bent, and the whole bike was extremely rusty. I felt for the rider's knees. To his credit, he put up a very good time.
In no time at all Brian was away and I wheeled the race tuned Micro up to the line, complete with SPDs, special straight bars and air flowed bar ends.
Five, four, three, two, one, and I was away. One thing, small wheels certainly accelerate well, too damn well, as the front wheel was off the ground. Is the Microís short wheel base a stunt riding feature?
In no time at all I was into a series of sharp bends that catch out riders unfamiliar with the course. Immediately after this is the dreaded Hill which turned out to be not too bad. However, at racing speeds all thought of remaining in top gear went by the board. Changing down and powering up The Hill, the familiar heavy breathing and pounding heart of my previous time trial made itself felt, bringing home the pain and agony that is cycle racing. Only one and three quarter laps to go.
A group of walkers cheered as I went by and I allowed myself a short free wheel down the other side of The Hill, a luxury denied me on my previous race on a fixed wheel. Mind you, the free wheel option does make you lazy, speed is everything on these ten mile dashes.
The course unravelled before me, with thoughts of, ĎOh no, this is only the first lap and Iíve got to do all this for a second timeí. After a couple of hairy bends with loose gravel and water from a previous shower, I was into the circuitís final stretch for the first time. A short rise was taken at about 20 mph and then it was the home straight. ĎMust put on a good show as I go past the crowdí, I thought. But this straight, which looks level, turns out to be disconcertingly up hill and every muscle is straining to make the crowd think that you are well into this racing lark. With pounding heart itís head down and no thought of acknowledging the shouts of encouragement, then into the second and final lap.
Through the bends, up The Hill, down the other side and so far no spacemen have passed me. In the bends I see a cyclist in front of me, ĎAm I actually going to pass someone?í, but no, itís only a youngster on a mountain bike, unconnected with the race.
But whatís this up ahead? There is definitely another rider and Iím catching him. Iím actually going to overtake someone! But that rider is hard to catch, I see him look round, spurred on by my appearance he stays ahead of me for a long time. Slowly I draw him in, until just before a difficult road junction I hear an ominous creaking behind me. Immediately I know what it is. Dave obviously hasnít ironed out all the Moultonís idiosyncrasies, but he has managed to make up two minutes to catch me. Straight after the gravelly junction he sweeps past shouting, ĎYouíre a hard one to catchí, and I put on extra effort to keep with him. This takes us both past the rider I was catching, which turns out to be Brian. Itís the battle of the small wheels. Brian shouts something unrepeatable, as he is a veteran of the Tin Can Ten and we are young and not so young upstarts. Meanwhile Dave disappears into the distance. I then overtake Lorna Wray and thatís the excitement over for today except for one point where the Sturmey hub seems to lock up and I think Iím out of the race, but it frees itself as soon as I back pedal. At least no one else overtakes me.
The last hill comes and goes and itís a real effort to give a final push up the finishing straight. I cross the line and ease off down the road and turn at the pub for a potter back to the start line. I get my breath back with the others and watch the later riders come through. Paul eventually sails over the line with hat and mobile phone perfectly positioned, a lesson to us all about how to approach your first cycle race. Brian tells of his temptation to use the derailleur when we passed him, but being the English gentleman, he resisted.
It was now time to try the tea and cakes that the organisers had generously provided and settle down to wait for the results. At this point, the weather which had been dry for the race, turned distinctly nasty, and torrential rain sent us scurrying for shelter.
Eventually a friendly farmer let us use his stable for the presentations. Unfortunately there was some mix up in the time keeping as several ridersí times were obviously not quite right, including my own. I was shown as exactly a minute ahead of Brian. This would have meant that we crossed the finishing line together, which we didnít. Anyway, it was a grand day out and I probably averaged just under twenty miles an hour which quite pleased me.
Interestingly, the booby prize of the Loughborough Sock went to Dave Westwood of the VCC on a 1920s two speed Sunbeam. Dave is not known for his reluctance to tell a good story and managed to miss his start time by being engaged in one of his many anecdotes.
Iíll certainly be back next year. Shall I desert the folder camp and try the Pashley Roadster? (No, itís too bloody heavy!)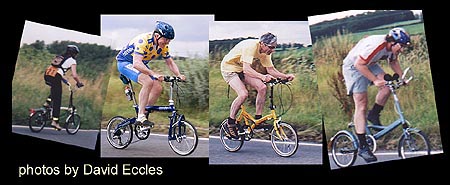 Members of the folder team - left to right: Susan Barlow, Brian Donnan, Dick Hanson, Dave Minter. Photographs by David Eccles. Montage by Brian Donnan.

The full results, after corrections, can be found at http://www.donnan.co.uk/tin-can/result2002.htm .
---
Folding Society Home Page | Event Reports Page
---
Copyright (C)2002 Dick Hanson and David Eccles (photographs)
URL: http://www.users.mwfree.net/~halffg/foldsoc/events/tincanten2002.html
Last updated: 30 August 2002